October 24, 2021
HUMPHREYS SECURES LADIES EUROPEAN TOUR CARD AFTER WINNING ACCESS SERIES ORDER OF MERIT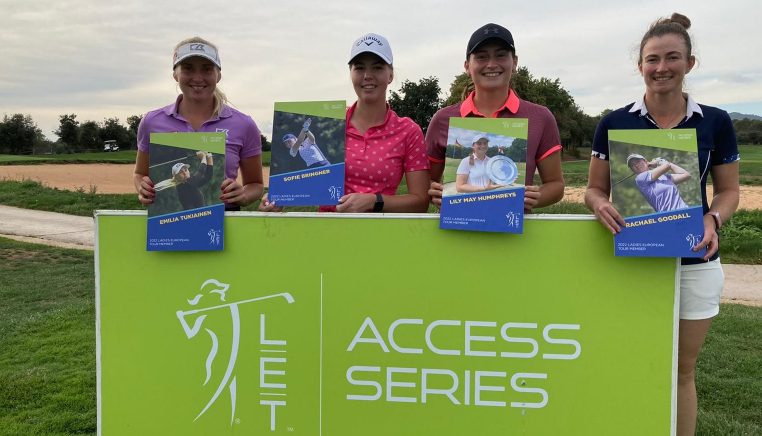 England's Lily May Humphreys capped off an impressive first year as a professional by securing top spot in the LET Access Series Order of Merit to win a place on next year's Ladies European Tour.
The 19-year-old from Stoke by Nayland in Essex turned professional at the beginning of June and weeks later clinched her first win as a professional on her first start at the Golf Flanders LETAS Trophy.
Following her victory in Belgium, Humphreys, who played in the 2019 Junior Solheim Cup, went on to enjoy a fine run of results, finishing 8th at the Santander Golf Tour Zaragoza and 16th at the Upsala Open, before securing runner-up spots at three consecutive tournaments in Sweden – the Vasteras Open, the Allerum Open and the PGA Championship at Trellborg.
Third place at the Flumserberg Ladies Open and a share of fifth at the Terre Blanche Ladies Open saw Humphreys finish the season with seven top-10 finishes from only starts, win the Order of Merit and Rookie of the Year with 2,032.00 points to her name and sealed her LET card for 2022.
"I'm so happy to have won Order of Merit and Rookie of the Year titles. The last two tournaments have been particularly tough courses, but I'm pleased to get over the line," said Humphreys. "It has been an amazing first year as a professional and one I will never forget. I have made and met so many friends on Tour, it's been such a memorable and lovely experience. LETAS has helped me prepare for the LET next year so much. All the girls that have got their cards this year have done so well, and it shows that there is such good competition out here."
Also winning their LET cards for next season were Scotland's Gabrielle Macdonald, who won twice this season; Russia's Nina Pegova; England's Rachael Goodall; Sweden's Sofie Bringer and Finnish rookie Emilia Tukiainen, who had six top-10 finishes in 2021.
VIEW SOURCE: https://www.golfnews.co.uk/features/humphreys-secures-ladies-european-tour-card-after-winning-access-series-order-of-merit/